Before You Begin
Installation
Synapse can be installed from the TDT Installation CD or downloaded from the TDT website as the Synapse and SynapseExtras packages. TDT Drivers should be installed first.
Synapse includes:
Synapse
TDT Drivers
OpenScope
OpenBrowser
OpenBridge
SynapseAPI
Synapse Extras includes:
OpenExplorer
OpenController
OpenSorter
Synapse Lite is Synapse for LR10 Lab Rat hardware. See Lab Rat User Guide for more information.
Package name change
Prior to v96, 'Synapse Essentials' referred to the base Synapse package above, and 'Synapse Suite' referred to the base Synapse package plus Synapse Extras.
Licensing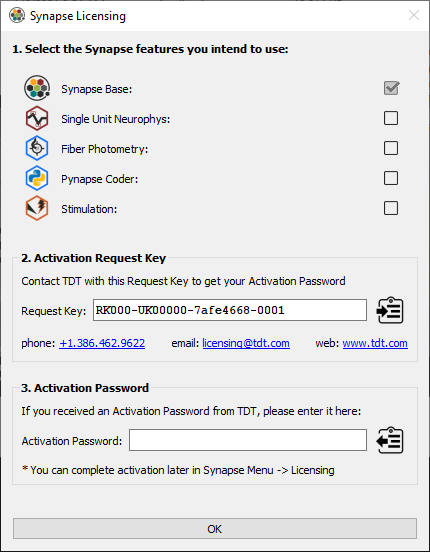 Starting in v96, Synapse requires a license to operate. The gizmos are grouped into categories. This simplifies the gizmo list by pruning gizmos that you don't need, and is more cost effective than purchasing the full Synapse package if you don't need all features.
If you are installing off the USB drive that came with the system, the features that you purchased will automatically be selected. Otherwise, select what you need and contact TDT with the Request Key that it generates. We will send you the Activation Password for your system.
Synapse creates a license file C:\TDT\Synapse\Synapse.lic that is specific to the computer that Synapse is installed on. If you need to activate another site, select the features you want on the new computer and contact TDT again with the Request Key from that new computer.
If you want to wait to activate, or try features you haven't purchased, you can select them for a 30 day trial and activate later. The gizmo icons include a badge if they are in trial mode or unlicensed.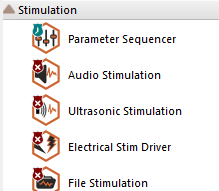 Gizmo icons in trial and unlicensed state
The Synapse title bar will tell you if you have experiment gizmos in trial status or gizmos that aren't licensed. If your experiment is using unlicensed gizmos after the 30 day trial expires, runtime will end after 5 minutes.

Synapse title bar shows license status
PC Requirements
The recommended operating systems for all TDT systems is Windows 10.
PC Hardware Requirements:
2.0 GHz or faster processor (Intel Core2 Duo or AMD Phenom II processor; 64-bit support recommended)
2 GB of RAM (more recommended)
1 GB of available hard-disk space for installation (recommended space depends on number of channels and research requirements - contact Tech Support for best options)
1080p HD Monitor (1920x1080 display) with OpenGL-compatible graphics card, and 64MB of VRAM (128MB or higher recommended)
Full height PCIe slot (if connecting to TDT Hardware)
TDT Hardware Requirements
Synapse requires a System 3 Processor and Optibit PC Interface. For best performance, TDT recommends using an RZ Multi-DSP Processor.
See the System 3 Installation Guide for hardware installation and set-up instructions.
File Types
Synapse uses three main user file types:
Synapse can also generate and track user log files associated with a specific experiment, subject, or user. Log files are simple text files that can be read using any text editor.
Data Files
Data is stored using TDT's DataTank format. DataTanks and blocks are treated as folder/file structures. Each new data tank acts as a folder that contains multiple block folders. The files associated with each block are stored within each block folder. They include .tbk, .tsq, .tev, .tdx, and .tin (Synapse experiment information for the block).
Tip
Blocks accessed by OpenScope may contain .tnt files, which are used for annotating data.
Tanks and blocks can be browsed and managed just as you would with other Windows-based folders and files. Individual blocks can be deleted or transferred between tanks using standard Windows methods. However, the underlying file structure for each block should always be maintained. If a block must be moved, move the block folder. Never move or delete an individual file. Blocks and files are named with a consistent naming structure to help keep blocks intact.