WS4/WS8 Computer Workstation

Workstation Includes Keyboard and Mouse - Not Pictured
WS Overview
The TDT WS computer workstations are rack-mountable and purpose-built for research applications, experiment control and data analysis. Each WS is equipped with a TDT Optibit interface and 240 GB Solid State Drive (SSD) with preinstalled TDT software, and 64-bit Windows 10.
The WS also includes at least one 1 TB hard drive. The drives are removable from the front panel. Additional storage drives are available from TDT.
The WS is available in two configurations. The WS8 is optimized for the most demanding applications, including high-channel count neurophysiology. The WS4 is targeted for less demanding applications, such as ABR and DPOAE testing with BioSigRZ software or fiber photometry. Both form factors include two Gigabit Ethernet network ports for integration with existing lab infrastructure or external device support.
Power and Interface
The WS comes factory installed with an Optibit optical interface card.
The power supply is auto-switching for 110 V or 220 V. A soft on/off button is provided on the front panel and a hard power cutoff switch is provided on the back panel.
WS Hardware Setup
Use the provided duplex fiber optic patch cables (orange) to connect the WS's factory installed, Optibit optical interface card to a TDT processor device. The fiber optic ports on each device and the patch cables are color-coded and use key and notch connectors to ensure correct wiring.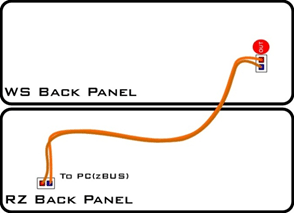 Connecting Multiple Devices
Multiple processors (or other interface-dependent devices mounted in a zBus chassis) can be connected to the WS's Optibit interface in a communications loop. The most common configuration consists of multiple RZ devices, such as multiple RZ2s used for processing higher-channel counts. The strands of the duplex cable can be separated as needed to make the required connections. See the diagrams below for additional configurations.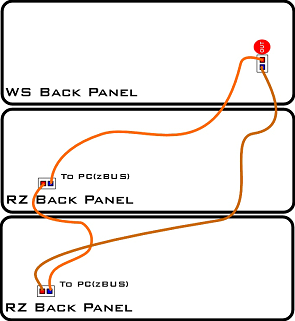 Multiple RZ Processors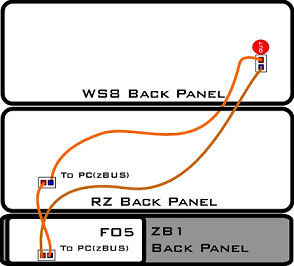 Mixed RZ and RX or RP Processors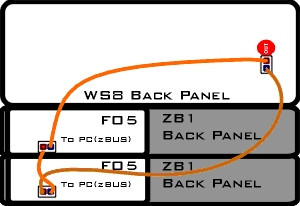 Multiple ZB1 Mounted Devices (RX, RP, PA5)
WS Features
LED Display
The LED display provides visual representation of system performance. The display includes 12 angled lines of LEDs representing percentage of performance capacity in use, from 0 - 100%, for each system element. Lines are labeled for quick identification and include indicators for the system elements listed below.
System Hard Drive (C:)
The system hard drive is pre-loaded with Windows 10 and TDT Software that was purchased with the system. It is labeled as the C: drive and is accessible from the front panel. This is a removable drive, but must be in place for system operation. A blue LED indicates connection and a purple LED indicates when the drive is being accessed.
Data (D: & E:)
The WS supports up to two removable data drives for storage of experiment data. The drives slots are accessible from the front panel and are labeled D: and E:. The standard system ships with one storage drive and additional drives may be purchased separately. Any 2.5" SATA hard drive is compatible. A blue LED indicates connection and a purple LED indicates when the drive is being accessed.
Caution
Do not remove or insert drives while the WS is running.
To remove/insert drives:
Turn off the WS.

Press upward on the silver button near the bottom of the drive door then lift the door up to open.

Pull the drive out or push it into place.

Close the drive door, pressing firmly until it snaps into place.
USB Ports
WS serial number 2000 and above include one front panel USB 3.0 port, six USB 3.0 ports on the back, and two USB 2.0 ports on the back.
WS serial number < 2000 include one front panel USB 2.0 port and four USB 3.0 ports on the back. See the Connector Panel diagram below for port location. Two USB extension cables are included so keyboard and mouse can be away from the WS.
Video Support
The WS8 and WS4 each include a high-performance video card. The WS8 (SN > 2000) supports up to three monitors. The WS4 (SN > 2000) supports up to two monitors. One DVI to HDMI cable is provided*.
Important
Motherboard video connections are disabled when the video card is in use.
Note
* WS4 (SN > 2000) built after approximately 29 June 2021 may have a mini-Display Port to Display Port (DP) adapter and a DP-DP cable instead.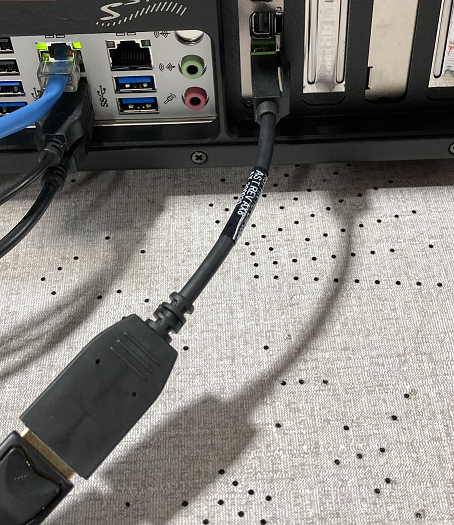 Input/Output Connections
The WS includes standard connections for keyboard, mouse, and audio input/output lines. Two Gigabit Ethernet ports and an RS232 type serial port are also provided.
Back Panel Connections

WS serial number 2000 and above
Note
* WS4 (SN > 2000) built after approximately 29 June 2021 may have three mini-Display Port connectors instead.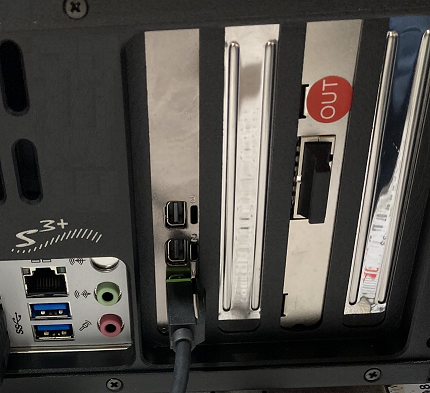 Note
The provided keyboard and mouse connect via USB ports.
Connector Panel

Note
* 2 and 3 are disabled when using the video card.
WS8 Technical Specifications
WS4 Technical Specifications